From The Principal's Desk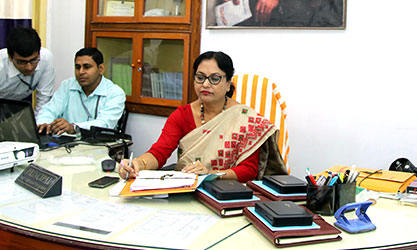 The Rishi Bankim Chandra College for Women began its journey as erstwhile Rishi Bankim Chandra College on 15th January, 1947. In order to provide scope for general education to the girls of locality, from August, 1964, a morning section solely meant for women was started within the same premises. The college was rechristened as Rishi Bankim Chandra College for Women on and from 13th July 1984.  
Rishi Bankim Chandra College for Women is affiliated to West Bengal State University, Barasat and is recognized by the UGC. The College offers under graduate (Honours & General) courses in Arts and Science streams and the college is a study centre for higher education facilities—(1) a study centre under Indira Gandhi National Open University and (2) MA in Bengali (regular) under WBSU.  
We have well qualified, trained faculty members. They have excellent academic credentials in their respective line of specializations and long years of teaching experience which impart quality education to students. All non-teaching staff of this college are very helpful and keep cordial relations with students.
I thank the Governing Body for their constant encouragement and support. RBC College for Women has experienced dynamic and open minded management together with committed staff.
I welcome all the new students on behalf of the institute. I convey my best wishes to the new entrants and all senior students and urge them to uphold code of conducts and put up good academic performances through hard-work. I congratulate them all and wish them success in their future endeavours.
Dr. Lana Mukhopadhyay ,
M.Sc., B. ED, Ph.D.
Principal , Rishi Bankim Chandra College for Women